Testimonies by the project partners
De l´art et d´autre:
"Participation in the LALI project has enabled DADAU to benefit from the contact of institutional partners to the project in Finland, Hungary and Austria, especially in the domains of language teaching and methods of cultural mediation. But above all, the meetings with people from other cultures, who sometimes had difficult experiences, were particularly rich for us because we had the opportunity to hear about their ways of seeing and understanding the world as well as about their concrete needs of linguistic and cultural trainings."
University of Turku:
"Trying out the LALI methodology and materials at the local pilot sessions was a particularly rewarding experience! Seeing how the participants embraced the activities and learned Finnish with the help of art was one of the definite highlights of the project."
Stand 129
"Observing how art creates those moments of appropriation for the participants was an incredible experience. The passionate exchange with other organisations and collaborators where not only fruitful but made this project really relevant.
Working in this multiprofessional project team made the learning experience for us enriching and benificial."
---
Papers and theses about LALI project
Augstin Lefebvre: "Observer et évaluer les pratiques de médiation culturelle ciblant des publics dits éloignés : une approche interactionnelle et multimodale" (french)
Lorenz Moosmüller: Master thesis "Nonverbale Kommunikation"  (Interviewguide / Illustration credits) (german)
More theses on LALI ArtApp page.
---
LALI Closing Event
The two-day closing conference of the LALI project was held on 22nd and 23rd of January 2020 at the prestigious buildings of La Sorbonne Nouvelle and the Hungarian Institute in Paris. It brought together a total of forty people, professionals and volunteers from the social field, academics in didactics, linguistics and art history. The participants came from different partner countries: Finland, Hungary, Austria, but also from Switzerland. The different outputs of the project were presented in an interactive and friendly way. The participants were thus able to experiment the possibilities offered by LALI. External experts in language teaching, video analysis, cultural mediation came to enrich the meeting while highlighting the achievements and innovations of LALI's productions. The discussions among the participants were sophisticated and constructive, opening the way for potential new collaborations in the future.
Day 1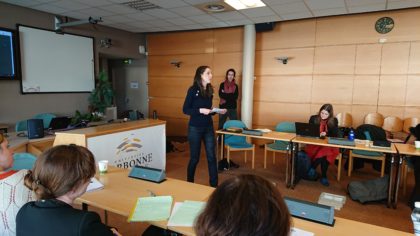 Day 2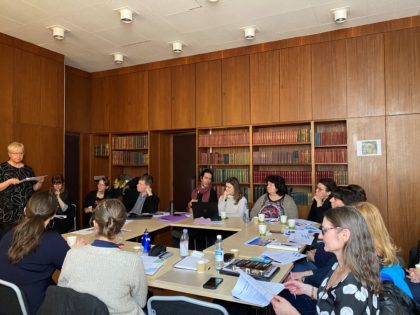 Virtual museum session in the Turku Art Museum (University of Turku)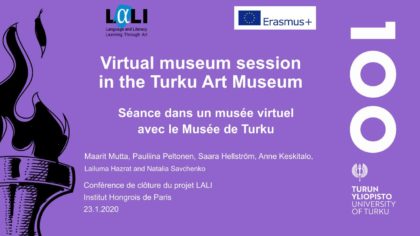 Presentation "Maarit Mutta: Utiliser la médiation culturelle pour l'apprentissage linguistique" (french)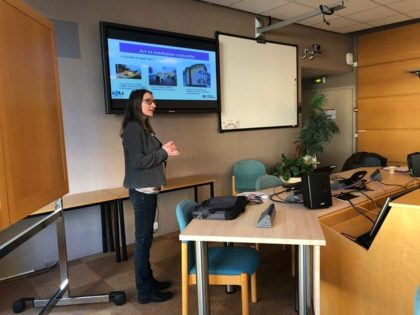 Presentation Catherine Muller, University Grenoble Alpes, Lidilem (french)